We got the professional photos back!
(Our photos are from Katie at Alt Wedding Co, who specialises in the more unusual wedding with a super fun, relaxed and documentary-style vibe. Matt and I didn't want the typical formal, staged pictures and both of us have anxiety about being in front of a camera. Katie made us completely comfortable throughout the process – she was probably the first person we actually spoke to about changing our wedding to an elopement and her support and enthusiasm was a really big deal to us. I am just so in love with the photos we've got back. A colleague of Matt's commented on the way she captured the 'playfulness' and I think that's a perfect word choice – he and I are quite silly and the fact that's shining through the images of the day is testament to her skill. You can see the joy. But in photos that still look like they're from an editorial spread, which is fulfilling every single one of my aesthetic fantasies. The way she's got the light captured, the warm colours she's pulled out – everything is incredible and I couldn't be more grateful to her.)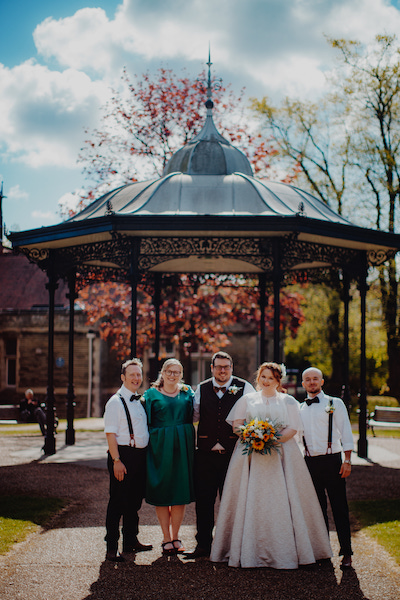 In total, I made: my dress, Matt's waistcoat, Kirri's dress and the three pictured bow ties – plus five coordinating face coverings not shown here. Attending were obviously ourselves (centre and to his right, if you couldn't tell), my brother (right hand side), Matt's best friend (in green) and her husband Adrian. The fab five, if you will!
The Garments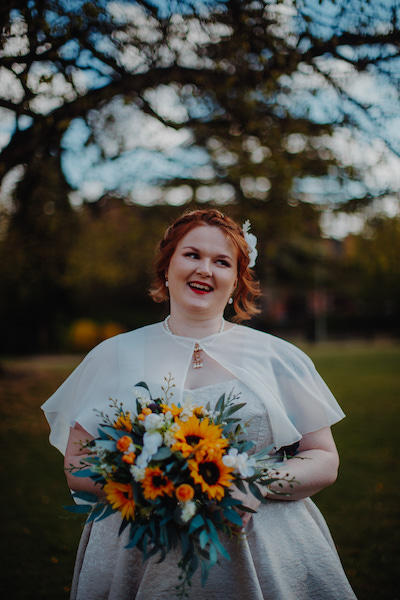 My dress was made using the Cashmerette Upton pattern. I used the V-back but modified the zip to be lapped rather than invisible, so I could attach tiny pearl buttons down to hip level. Also because my invisible zip insertions are generally absolutely terrible, but mostly because I wanted tiny buttons. I used deadstock 100% silk brocade from AmoThreads which was a total bargain at £13 per metre as opposed to £90+.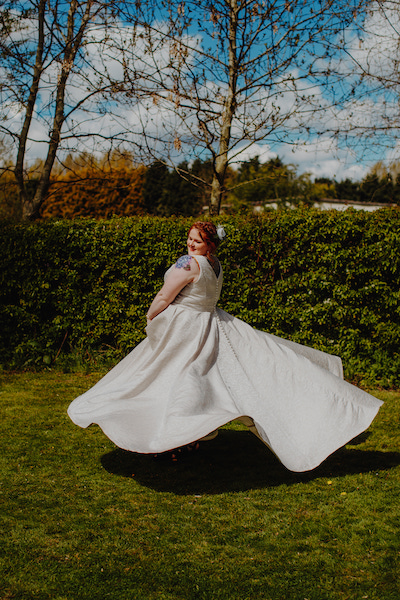 At the hem, it's a little over 10m in length. My mum and I spent a long time pinning that level! The skirt and neckline are not originally from the pattern but were modifications I made.
It also has pockets, of course.
In total it was well over 100 hours of labour, through three bodice toiles and all the various fitting adjustments.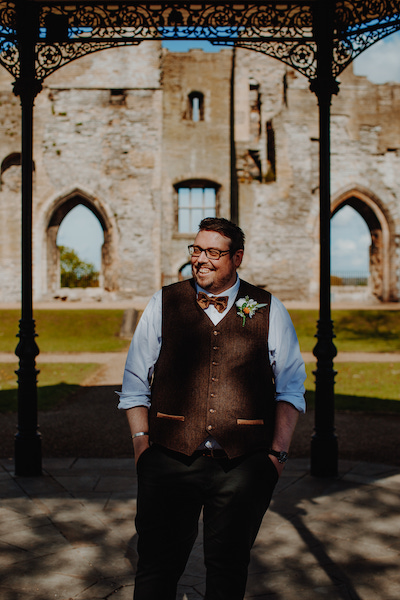 Matt's waistcoat uses the Wahid pattern from FreeSewing.org and was therefore custom tailored to his measurements for perfect fit. The silk lining and welt pockets was also from AmoThreads, whilst the tweed comes from Fabworks and was woven in the UK!
Matt's bow tie was in that same silk, and the other two gents' were made using the Yorkshire tweed. The back belt was the most luxuriously soft double faced chocolate velvet ribbon.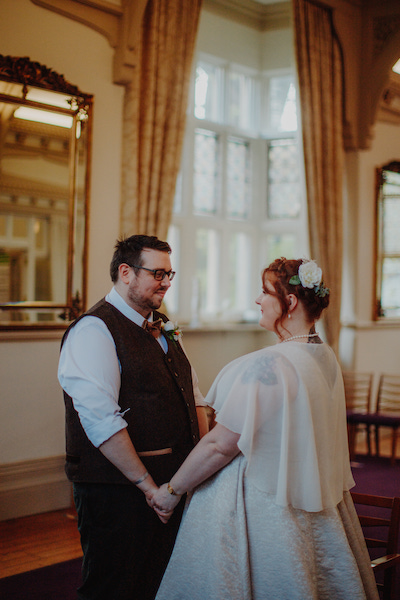 His pockets were lined using cotton from one of my late father's shirts, which was a sentimental decision I'm really glad I made.
I also ordered and stitched in a custom embroidered patch from Ellis&Eliza on the inside left facing, with our wedding date on it.
(Supremely proud of the welt pockets being level, too!)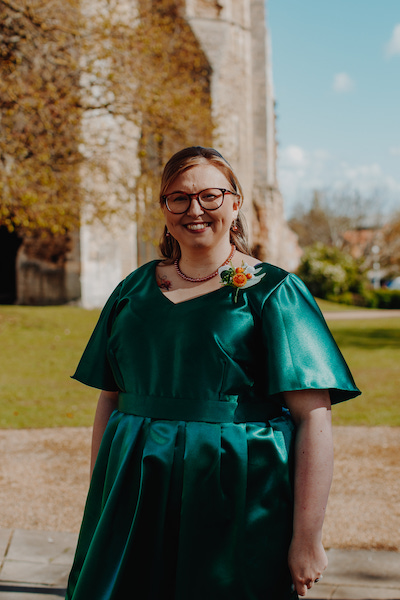 Kirri's dress was also made using the Cashmerette Upton pattern with the v-neck, v-back and flutter sleeve options.
It was quite a last minute choice to make her dress too, so I might have liked more fitting time but I do love how it came out! The fabric is crepe backed satin from Minerva.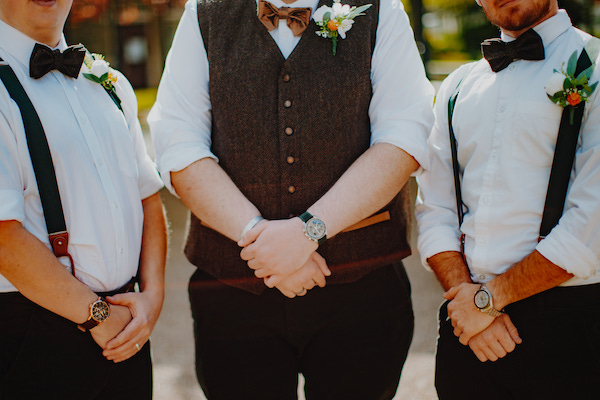 Final Thoughts
All in all I couldn't have done anything differently. I wanted to be beautiful but also comfortable, which I was – I had added a Petersham waist stay to my gown because of the weight of that giant skirt, which did rub a little by the end of the day, but I know it would have been much more restrictive if I'd made the corset I'd initially intended. It took hundreds of hours of work between January and the end of April to get everything finished but I'm so proud of the achievement and it's so satisfying to see these beautiful photos properly showcase the amount of work I put in to this process.
There were definitely hiccups along the way and a couple of instances of 'what have I done, why didn't I just order a dress like everyone else?' – but I'm not like everyone else, I wanted something unique and that fit me perfectly and I simply couldn't have got that off the rack. I don't know that I'll be in a hurry to take on such a big project again for a while, but when I'm an old lady looking back at my wedding photos I know how smug I'll feel to be able to say that in the year 2021 I made my own dress. I also really love the sensation of knowing that garments I made helped other people feel fabulous too. I want everyone to feel good in their clothes and on this gorgeous sunny May day I accomplished that.
Couldn't ask for anything else. Couldn't be happier!