With the wedding sewing tucked away, I've now got time to work on other things – but I think I've gone from 0-60 way too fast and completely overwhelmed myself with possibilities. I need to take a breath and slow down.
We're going on a little honeymoon at the end of the month for a two night 'foodie' minibreak in which the highlight is a Michelin-starred dinner. I want to make a dress to wear for that, and I've got my #MeMadeMay project underway, but outside of these two there are no deadlines right now. Yet if you looked at my notebook you'd see endless garments: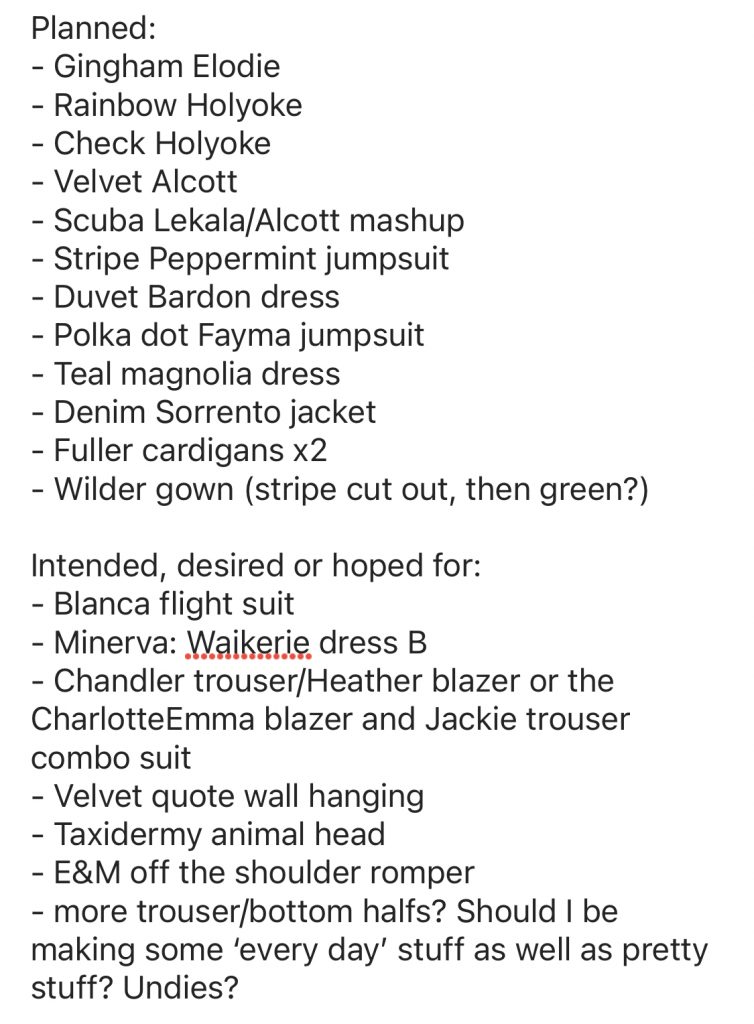 The Me Made May garment is the gingham Elodie dress mentioned above, and I traced my pattern pieces out today. Then I ran out of tracing paper, oops. The scuba Lekala/Alcott combo is for the honeymoon dinner, and then everything else is just nice to have. Or that's what I'm telling myself, but in breaks in the rain in the last 48 hours I have laundered 8 different cut lengths of different fabrics (everything between 3-6m) Just In Case.
Then I had a bit of a cry about being overwhelmed again. I think I'd told myself the sewing pressure didn't end until the end of May, but after last week's wedding and all the stress of those last few days my body wants a rest and I can't fight with that.
It's also about being fat, and the sun coming out, and wanting to feel fabulous and weather-appropriate whilst not having the accessible clothing in shops to just go buy what I want. To wear it, I have to make it. And there are lots of things I want to wear. Especially as the world opens up again, and we start going outdoors once more.
Frankly that list doesn't incorporate everything – that last entry question, 'more trousers?' – I'm thinking about the M&B Willandra pants in 'summer' colours because yet again I've worn through another pair of jeans at the thighs and the high street fit just isn't great even when they do have my size. Then in autumn I do want to try making jeans, but that's a related issue a long way away. Inevitably I'm going to buy some more trousers this week, get annoyed and then resign myself to having to sew some. I bought a dress in my size whilst out today and whilst arguably it does 'fit' it was hideous.
But there's no pressure, or there shouldn't be, and I need to just cool my jets and take things a lot more slowly. Once these two dresses are done.