It's no surprise I love Gertie. Her modernised vintage patterns are exactly what I want to wear every day. (Except all the days I wear jogging bottoms and one of my partner's tshirts, which given we live in These Times is basically every day. No chance I'm dressing up all pretty to move between my upstairs office and my downstairs living room!)
The Picnic Skirt is a free pattern on her YouTube – and though I say pattern, it's really just measurements. This is an enormous gathered rectangle stitched into a waistband, with cute button details at the front. It coordinates with the Picnic Top, a pattern recently released on her Patreon (and which I had slightly less success making because I'm at the top end of her sizing at present, and was making to a deadline for this so abandoned the project to retrieve at a later date).
We went to a friend's COVID wedding drinks in a socially distanced venue and I felt adorable in my dinosaur skirt and matching mask.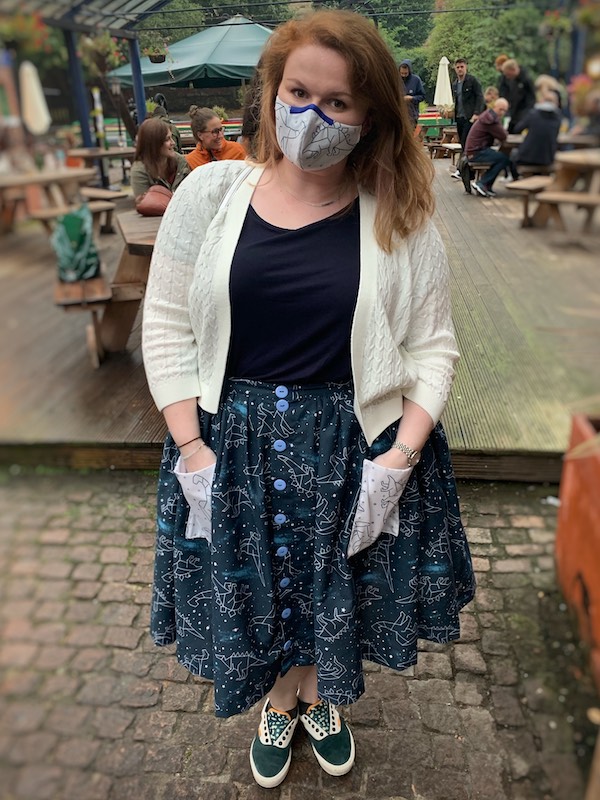 Origami space dinosaurs! By this time in the rain all of my curls had fallen out and we all looked a bit damp and bedraggled but our friends are legally wed, love reigns supreme and even a grumpy security guard cranky at us for getting too close to each other couldn't ruin the day.